Web Audit Report criteria
September 13, 2012
How do you measure the success of your web presence?
Google Analytics? Sales? The phone ringing?
Digital Tsunami offers a professional, objective and FREE website evaluation service.
50 criteria are checked on your current website and extended web presence, and collated into 4 categories:
Content
Usability
SEO
Social Media
Criteria measured include the freshness, clarity and engagement of content; the consistency of branding; the speed of page load and keyword density; the accessibility of navigational elements; the functional attributes which result in high level Usability; the optimisation of site structure and individual pages; and the extent and engagement of the brand and the site with social media.
Each component of your web presence is awarded a pass/fail score. The total is converted into a percentage measured against an optimal web presence.
The objective of a Web Audit is to identify areas where your site can be improved, as a roadmap for greater efficiency and impact for your web presence, and an increase in your brand's reputation and engagement.
The vertically condensed chart below shows the report's structure.
To request your obligation FREE Web Audit Report, please complete the application form.
From Our Clients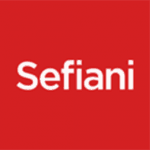 We are delighted with our new website and early feedback from clients and associates is very positive.
The overall impression is that it is a very professional, informative website and conveys the feeling that Sefiani is a quality organisation with skilled, friendly staff.
Thank you for all your help and patience in working with us for this successful outcome.
The launch .. was a success. We were able to present this live on a Wireless connection during our Sydney, Australia sales conference on a location with very limited internet bandwidth. This proves the technology used .. renders light webpages which are easy to download on a browser.
Comments I've heard from our employees were all positive and reflected precisely what we were looking for: a simple but concise, clean and effective webpage.
We acknowledge the timeframe given to you was extremely short but nevertheless you have sucessfully delivered the project on schedule .. the critical success factor was communication and availability of Digital Tsunami's team.
I am very glad we were able to partner with such a professional team as yours and I am confident any other initiatives with you will be as successful.
Our take-away menu advertised TamarindThai.com.au, even though the site didn't exist.
Digital Tsunami offered great ideas and design to set up a professional website that matches our name, ideas and style of the restaurant.
Andrew is very knowledgeable IT professional and he never hesitated to see and consult us in the restaurant.
Thank you for the development of an updated brand image for Wah Yuet in China.
While originally contracted to produce a video highlighting Wah Yuet's manufacturing capabilities, it was apparent very quickly that your understanding of our requirements, combined with your experience, were the perfect fit to create a new logo and style guidelines for the company. While relatively small in scope, you were dedicated to the success of the project and I am pleased to say that you hit the bullseye!
You are a true professional Andrew, and your team was very impressive.
The results will be seen around the globe shortly as we embark on our new advertising campaign. I do greatly appreciate the extra lengths you went to under difficult circumstances, to help us achieve our goal.