QR codes. Now boarding!
August 26, 2013
Brands with the greatest volume of human interactions are rapidly adopting technology which accelerate transaction speed whilst retaining utmost safety and security.
A perfect example of a high value, high volume and rapid transaction is the airline boarding pass.
Millions of travellers board aircraft every single day. Ensuring faster and more accurate boarding converts to savings in millions of dollars for airlines and generation of additional fees for airport managers, as well as an increase in productive time for business travellers.
The paper ticket is rapidly being replaced by the e-ticket and the boarding pass is now being supplanted by the smartphone QR code.
Purchasing airline tickets is one process which can now be conducted almost entirely in a digital environment. Online purchase, email or smartphone ticket issuance, digital seat allocation and e-boarding passes enable an end-to-end paper-free transaction.
The same process is now happening at the other end of the value scale, with low-cost transactions being processed by NFC (near-field communication), where a small amount can be charged directly to the users smartphone account.
Digital Tsunami has long advocated the use of QR codes as a fast and efficient mechanism for conveying complex data. As an example of this commitment, all Digital Tsunami business cards and datasheets have integrated a QR code since 2008.
To explore how innovative, proven technology can be integrated into an enterprise-wide digital strategy for your brand, contact Digital Tsunami today!
From Our Clients
Digital Tsunami provided an outstanding service throughout the whole web development process. Andrew spent extensive time early on to understand our business in order to provide additional conceptual and strategic contributions to the brand and corporate identity of Kinetic Defence Services to ensure the message was clear, precise and appealing to the target audience.
The development process was smooth and efficient and enabled us to have an input throughout to guarantee total satisfaction with the final look and feel of the site.
Andrew helped us to see the potential of video in bringing our new website to life.
He held our hand through the process, making it as undaunting as possible.
He delivered a great selection of videos (from a one-day shoot), that really tell the Foodbank story and will be a great addition to our communications.
Andrew has provided Merrell Associates with reliable service, bringing a vast wealth of knowledge in IT to the task for more than the eight years I have been working here.
We have been helped by Andrew to solve all sorts of problems and if there isn't an immediate fix, solutions are found pretty quickly.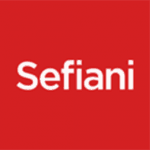 We are delighted with our new website and early feedback from clients and associates is very positive.
The overall impression is that it is a very professional, informative website and conveys the feeling that Sefiani is a quality organisation with skilled, friendly staff.
Thank you for all your help and patience in working with us for this successful outcome.
Your team has been great to work with. Tamara is very quick to catch on to things and Amir's code and CSS has impressed David due to its' simplicity and elegance.