Marketing Strategy
March 4, 2017
Engaging customers and prospects is now all about the conversation.
Statements about your brand by third parties (citations), are now as critical to your Google ranking as direct referrer links. Professional and social networking offer immense opportunities for brand engagement with advocates, users and prospects.
Digital Tsunami can help you determine a strategy for interaction via an appropriate selection of these platforms.
From Our Clients
We have been a client of Digital Tsunami now for a number of years.
As an ASX listed company, we seek reliability with our suppliers. Digital Tsunami have proven they are reliable and trustworthy.
We host multiple websites and services through them, and use them for technical and creative work.
There has never been an issue, they are always on top of all technical details, and simply provide the best possible solution around a given budget, and get things right first time. Clearly they have excellent quality controls and that shows in their services.
Foodbank has experienced unprecedented growth .. there is no doubt that the new Foodbank website, designed, built and maintained pro bono by Digital Tsunami, has been the principle tool in lifting Foodbank's profile. It is because our website is so engaging, that we have captured these donations. Foodbank just wouldn't be where we are today without Digital Tsunami.
With a brief timeline to ensure we had a web presence and launch coinciding with our 10 year anniversary, Digital Tsunami delivered. On time. On budget. Great Effort!
When I need a comprehensive online strategy and innovative solutions to achieve results for an important client, Andrew is the only person I need to call.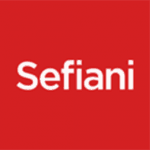 We are delighted with our new website and early feedback from clients and associates is very positive.
The overall impression is that it is a very professional, informative website and conveys the feeling that Sefiani is a quality organisation with skilled, friendly staff.
Thank you for all your help and patience in working with us for this successful outcome.