Navigating the Social Media pathway
July 30, 2012
On Facebook, almost a billion users "Like" products and brands, and promote their own opinions, images, comments, videos  and links.
On Twitter, half a billion active users do the same (except in 140 characters or less)!
On LinkedIn over 160 million professionals join groups, follow companies, pose questions, present polls, enter discussions, offer recommendations, connect to individuals, post credentials, develop careers, pursue and business leads and sales.
However, an understanding of online customer behaviour and an effective strategy is fundamental to ensure that your business 'stays on track' in social media.
Although LinkedIn launched in May '03, Facebook in February '04 and Twitter in March '06, (making them ancient in Interwebs years), they are still precarious territory for many businesspeople whose communications experience precedes them.
Hannah Atkinson of Return on Digital (UK), has introduced an infographic which addresses interaction and brand engagement with Facebook, Twitter and LinkedIn, for businesspeople unfamiliar with these dominant social media platforms.
Source: Return On Digital
From Our Clients
Andrew and his team have supported Foodbank by providing web services for more than a decade.
In fact, they have just undertaken the first complete redevelopment of the original Foodbank website they built for us, and have been maintaining so ably since.
Andrew is creative and passionate and helps us to keep up, constantly looking for new ways to add value and improve our online communications channels.
The launch .. was a success. We were able to present this live on a Wireless connection during our Sydney, Australia sales conference on a location with very limited internet bandwidth. This proves the technology used .. renders light webpages which are easy to download on a browser.
Comments I've heard from our employees were all positive and reflected precisely what we were looking for: a simple but concise, clean and effective webpage.
We acknowledge the timeframe given to you was extremely short but nevertheless you have sucessfully delivered the project on schedule .. the critical success factor was communication and availability of Digital Tsunami's team.
I am very glad we were able to partner with such a professional team as yours and I am confident any other initiatives with you will be as successful.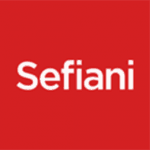 We are delighted with our new website and early feedback from clients and associates is very positive.
The overall impression is that it is a very professional, informative website and conveys the feeling that Sefiani is a quality organisation with skilled, friendly staff.
Thank you for all your help and patience in working with us for this successful outcome.
We are all very happy with the new website and believe it captures the essence of the Group One brand.
Andrew and colleagues were able to assist at every step of the website production process, providing a sleek layout with high quality images. We would like to thank the Digital Tsunami team for an excellent job.
You have demonstrated patience, perseverance, attention to detail and a rare ability to perceive what was needed even when we didn't. We are delighted with the site, it performs and looks great and our enquiry rate since it superseded our previous website has already increased by 20%.