m.commerce growth continues
January 23, 2013
Projections have just been updated by Forrester Research for the next 5 years of U.S. m.commerce
The reputable company predicts that US mobile payments will reach US$90 billion by 2017, a 48% compound annual growth rate (CAGR) from the US$12.8 billion spent in 2012.
Forrester's five-year mobile payments forecast segments mobile payments into three categories:
in-store mobile payments (proximity payments)
mobile commerce (mCommerce)
mobile peer-to-peer (P2P) and remittances
This trajectory is reinforced in a chart recently published by Statistica, which displays comparative growth on handheld devices. Over the next 4 years, while the value of m.commerce on smartphones is predicted to increase by 250%, on tablets it is predicted to grow by over 425%.
Digital Tsunami has promoted the use of efficient and innovative online tools since 1996.
Responsive design is the latest mechanism to persuasively present your content. The dramatic  market penetration of handheld devices, combined with broadband access and the extensive availability of WiFi hotspots, has resulted in some users accessing the Internet by a smartphone only.
All new websites Digital Tsunami develops will now also be mobile compliant.
For a free consultation to discuss your mobile needs, contact us today.
Sources:
Forrester Research
Statistica
From Our Clients
(We) took a fairly substantial audit of .. sophisticated sites both technically and creatively .. Out of six prominent designers, Digital Tsunami stood out.
The quality of the images, the sophisticated management of text .. together with smooth animations makes (our) website of very high calibre.
I would personally rate this site in the top 2 percent of world wide web sites today.
It is clear from the enthusiasm and professionalism shown, that Digital Tsunami views each client as a long term partner contributing ideas above and beyond the development of the site and we look forward to involving them in future marketing initiatives.
With a brief timeline to ensure we had a web presence and launch coinciding with our 10 year anniversary, Digital Tsunami delivered. On time. On budget. Great Effort!
Digital Tsunami was professional, responsive and accurately interpreted our brief. The final result was a new website that was in keeping with the iBurst brand essence and proposition.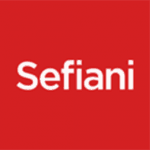 We are delighted with our new website and early feedback from clients and associates is very positive.
The overall impression is that it is a very professional, informative website and conveys the feeling that Sefiani is a quality organisation with skilled, friendly staff.
Thank you for all your help and patience in working with us for this successful outcome.