Capturing time
June 30, 2019
Aesthetically, a highlight of recent projects was our pro bono support of a Melbourne artist rapidly gaining international recognition. Starting as a talented street artist, Rone recently spent a year designing an ephemeral immersive installation in a 1930s streamline-moderne mansion in Melbourne's outskirts.
Entitled 'Empire', the interior of the derelict Burnham Beeches, was filled with furniture, light fittings, table settings and framed artworks, juxtaposed with the decay of peeling wallpaper, decomposing paint, penetrating trees and pervasive leaf litter. On the walls of thirteen rooms, Rone painted oversize portraits of a young woman's face. With subdued lighting and evocative music (composed for the installation), and a virtual reality tour (on head-mounted-displays), the effect on visitors ranged from an aesthetic appreciation to a visceral emotion.
As an admirer of Rone's artwork, Andrew W Morse was delighted to meet the artist during a visit to the exhibition, and offered to contribute to his future projects. That opportunity arose just days later, when Rone called to ask us to arrange a hyperlapse shoot to document the installation as it was disassembled.
All artists are aware of their own mortality and the impermanence of their works. Time, materials, sunlight, nature and human action can all contribute to damage and the eventual destruction of many artworks.
Some 'street' artists actively embrace the temporary nature of their work; whether Banksy intentionally starting to shred a framed work immediately after being sold at auction or Rone painting his work on a condemned building.
Hyperlapse is the term given to a time-lapse in which the camera is moving. Digital Tsunami coordinated delivery of dolly track and stabilising weights and an advanced motion-control camera system by which the hyperlapse could be captured.
On the shoot day, a specific path was devised to match a sixty second piece of custom composed music. The camera position (track, pan, tilt, and focus) was replicated precisely in scores of takes to the exact duration of the music. On each 'pass', elements within the foreground and background were progressively removed until all remaining was a white painted bare shell.
During the edit, the many takes were frame aligned and then a succession of dissolves created the impression of solid objects transitioning through an ethereal presence to a mere hint of memory.
The films produced by Rone of the Empire project all celebrated its intrinsic impermanence, none more so than the hyperlapse sequence of a 30 metre dining room as it transformed from a fully furnished to an empty room.
Film is an emotive medium. The hyperlapse sequence of Rone's Empire achieved extraordinary impact by visually capturing the very essence of the temporary.
Speaking of Empire, Rone said "long after the paintings are gone, this photographic memoir and accompanying soundtrack will present an opportunity to .. be transported to this special space that we reclaimed, albeit fleetingly".
conceptualiser: Rone
production: Rone and Andrew W Morse
venue: Shannon Bennett, Adam Garrisson
interior stylist: Carly Spooner
organic sculptures: Wona Bae, Charlie Lawler
composer: Nick Batterham
muse: Lily Sullivan
lighting cameraman: Chris Matthews
motion control rig operator: Gerald Thompson
From Our Clients
I am very happy with my new website from Digital Tsunami.
Not only did they design it, they also created my logo, and gave me valuable advice and professional feedback.
Through Digital Tsunami, my website now looks professional, easy to navigate and (through my customised CMS), easy to update.
Service delivery is precisely what was asked, while respecting deadlines and budget constraints. Digital Tsunami are very good value for money, particularly for quick wins without long pre-planning project phases.
The services provided included the registration of our domain name, establishment of our email accounts, and development & hosting of our website, were all executed rapidly and effectively. We also appreciate the service of upgrading our list of 150 shelf company names (in Chinese characters and English) every 2 weeks.
We valued the high level of creative design provided by Digital Tsunami, both for the website and the corporate identity.
The team at Digital Tsunami was incredibly responsive, delivering a solution well ahead of deadline. Their technical knowledge was exceptional, they were innovative, and they were very meticulous. What's more, they understood my business and technical requirements and translated them into a user-friendly, refined, professional site which is conceptually simple and cohesive.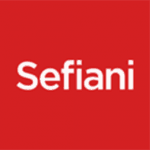 We are delighted with our new website and early feedback from clients and associates is very positive.
The overall impression is that it is a very professional, informative website and conveys the feeling that Sefiani is a quality organisation with skilled, friendly staff.
Thank you for all your help and patience in working with us for this successful outcome.