A reception at Admiralty House
May 11, 2013
One of the benefits of pro-bono work is the occasional social gathering at which supporters can meet.
Today, representatives of companies which support Foodbank Australia, were invited to join the Governor-General of Australia and her husband at Admiralty House, Kirribilli for a formal presentation.
Quentin Bryce, together with Mr Enzo Allara, Chairman of Foodbank Australia, presented the 2012 Patron's Award to Mr Ian McDonald, CEO of Coles, for an outstanding contribution to Foodbank.
Digital Tsunami Creative and Technical Director Mr Amir Mostofi and founder Andrew W Morse were in attendance.
Digital Tsunami has supported Foodbank in Australia with pro-bono web design, development, maintenance and hosting since 2000.
From Our Clients
When I need a comprehensive online strategy and innovative solutions to achieve results for an important client, Andrew is the only person I need to call.
Central to the development process is Digital Tsunami's thorough understanding of the project needs, clear and constant communication, and creative, innovative and meticulous approach to delivering solutions.
The launch .. was a success. We were able to present this live on a Wireless connection during our Sydney, Australia sales conference on a location with very limited internet bandwidth. This proves the technology used .. renders light webpages which are easy to download on a browser.
Comments I've heard from our employees were all positive and reflected precisely what we were looking for: a simple but concise, clean and effective webpage.
We acknowledge the timeframe given to you was extremely short but nevertheless you have sucessfully delivered the project on schedule .. the critical success factor was communication and availability of Digital Tsunami's team.
I am very glad we were able to partner with such a professional team as yours and I am confident any other initiatives with you will be as successful.
Your team has been great to work with. Tamara is very quick to catch on to things and Amir's code and CSS has impressed David due to its' simplicity and elegance.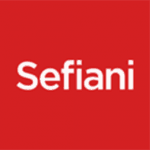 We are delighted with our new website and early feedback from clients and associates is very positive.
The overall impression is that it is a very professional, informative website and conveys the feeling that Sefiani is a quality organisation with skilled, friendly staff.
Thank you for all your help and patience in working with us for this successful outcome.