Hyperlapse
October 8, 2019
A hyperlapse is a time lapse from a moving camera position.
The movement may include pan, tilt, elevation and/or zoom. By pre-programming a remotely piloted aircraft (camera 'drone'), a specific aerial flightpath can be replicated over hours, day, months or years.
Sequences can be created from a series of images (taken at regular intervals), played in rapid succession as a video. These can be matched with computer graphics of a construction project to demonstrate an 'extrusion' of the building from its foundations!
Digital Tsunami produces hyperlapse sequences with music and captions to provide dramatic impact.
From Our Clients
I happily recommend Andrew and the Digital Tsunami team.
I have dealt with many web marketing and support companies over the years, and have been very impressed with Digital Tsunami's response, advice and understanding of their field. I recommend talking to Andrew about your next web project.
By taking the time to understand our business, industry and vision, Digital Tsunami created a site that truly reflected our leadership position in the market and our strategic direction.
Digital Tsunami's expertise in visual design, photography, website navigation and business writing, resulted in an extremely effective website.
The project was expertly managed from end to end which resulted in a fast and efficient process.
Thank you for all your efforts in creating our new website which achieves our agreed objectives : elegantly smart, yet understated, professional and easy to use.
When I need a comprehensive online strategy and innovative solutions to achieve results for an important client, Andrew is the only person I need to call.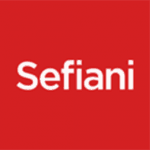 We are delighted with our new website and early feedback from clients and associates is very positive.
The overall impression is that it is a very professional, informative website and conveys the feeling that Sefiani is a quality organisation with skilled, friendly staff.
Thank you for all your help and patience in working with us for this successful outcome.