Master Residences hardbound book
Close
Overview
The culmination of the promotion of luxury residential property Master Residences Yinchuan, was a 250 page hardbound book. Entitled "A Design Perspective", this tome showcased the extraordinarily high quality of all aspects of the property.
The three towers of this exclusive residential precinct in northern China reflected the best-of-breed in residential construction and engineering. Sixty six suppliers from fourteen countries contributed proven, cutting-edge technologies, products and services.
As Creative Director, Digital Tsunami founder Andrew W Morse worked for over six months with an international production team on a cohesive marketing campaign. The components produced comprised bilingual materials, including: animation; branding; electronic document templates; photography; premiums; press ad; print; stationery; websites and videos.
Reflecting the superlative luxury of the property, the teams at Master Real Estate and Shanghai graphic house Yaean Design, produced a book of an exceptionally high standard.
Details
| | |
| --- | --- |
| Client: | Master Real Estate |
| Solution/s: | photography, print |
| Sector/s: | real estate |
| Region/s: | Asia & Pacific |
| Language/s: | English, Mandarin |
| Scope: | print, strategy |
| Features | liaison (Shanghai, Yinchuan) |
From Our Clients
In taking the time to understand our business, industry and vision, Digital Tsunami created a site which strongly reflects our leadership position in the international market and our strategic direction.
Digital Tsunami's expertise in visual design, information architecture, innovative communication and evocative business writing, resulted in an extremely effective website which will contribute to our continuing expansion across the globe.
.. a reliable and steadfast operator, with a keen sense of service. Innovative and contemporary, and operating within the upper echelon.
The launch .. was a success. We were able to present this live on a Wireless connection during our Sydney, Australia sales conference on a location with very limited internet bandwidth. This proves the technology used .. renders light webpages which are easy to download on a browser.
Comments I've heard from our employees were all positive and reflected precisely what we were looking for: a simple but concise, clean and effective webpage.
We acknowledge the timeframe given to you was extremely short but nevertheless you have sucessfully delivered the project on schedule .. the critical success factor was communication and availability of Digital Tsunami's team.
I am very glad we were able to partner with such a professional team as yours and I am confident any other initiatives with you will be as successful.
Andrew and his team at Digital Tsunami were the developers behind our micro site for Fearless.
I like the way they work (efficient, effective) and delivered a great site, on time.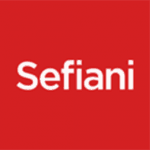 We are delighted with our new website and early feedback from clients and associates is very positive.
The overall impression is that it is a very professional, informative website and conveys the feeling that Sefiani is a quality organisation with skilled, friendly staff.
Thank you for all your help and patience in working with us for this successful outcome.