Craig International Ballistics responsive site
Close
Overview
Craig International Ballistics is a leading manufacturer of combat-proven body armour systems for defence force and police force personnel, ballistic glass and ballistic plates for aircraft, land transport and marine vessels. The company is ISO 9001 certified and has been producing security solutions since late last century.
Craig International Ballistics has supplied more than 100,000 Soft Armour Inserts (SAI) and hard ballistic plates to Defence and Police forces and is the largest supplier of police body armour in Australia. The company is a distributor of ballistic resistant glass for high risk environments such as high value storage facilities and prisons.
A robust Research and Development division ensures that the company continually develops leading-edge armour systems. Craig International Ballistics also specialises in manufacturing armoured Cash in Transit Vehicles including medium and large vans and four-wheel drives, which externally appear practically indistinguishable from regular road vehicles.
Digital Tsunami was commissioned to develop a new responsive site to showcase these products and services in an international standard web presence. As well as conveying corporate and product information, news and events, the site also presents considerable ballistics related information, including: a comprehensive glossary of terms; list of international stab and bullet resistant standards; FAQ; projectile impact videos and information on how to maintain personal body armour.
The site restructures to available browser width and orientation, on smartphones, phablets, tablets and desktops. Navigation adjusts from a pulldown menu on handheld devices to a horizontal main menu with individual pulldown submenus on desktops. Images resize and columns adjust (3, 2 or 1), subject to the precise width of the browser. A 'footer nav' offers an alternative form of navigation and by using a range of key words and phrases, acts as a valuable contributor to increased Google ranking.
The site features full-screen vectored background image (of an Australian Bushmaster APC, for which Craig International Ballistics now produces ballistic-resistant windows). Content control is via a sophisticated and easy-to-use WordPress content management system (CMS).
Digital Tsunami also developed a new Craig International Ballistics identity. Emphasising the aspects of protection and ballistics, this resulted in a powerful icon and robust typeface.
Details
| | |
| --- | --- |
| Client: | Craig International Ballistics |
| Solution/s: | identity, mobile, web |
| Sector/s: | automotive, aviation & aerospace, building, construction & engineering, manufacturing, safety& security |
| Region/s: | Asia/Pacific |
| Language/s: | English |
| Scope: | identity development, mobile development, web design, web development, web hosting |
| Features | video integration, WordPress CMS |
From Our Clients
Andrew has provided Merrell Associates with reliable service, bringing a vast wealth of knowledge in IT to the task for more than the eight years I have been working here.
We have been helped by Andrew to solve all sorts of problems and if there isn't an immediate fix, solutions are found pretty quickly.
Our take-away menu advertised TamarindThai.com.au, even though the site didn't exist.
Digital Tsunami offered great ideas and design to set up a professional website that matches our name, ideas and style of the restaurant.
Andrew is very knowledgeable IT professional and he never hesitated to see and consult us in the restaurant.
Working with this team has been a delight and the resulting website far exceeds our expectations. All stages of the process were handled professionally, promptly and creatively. Discussions went smoothly, with flawless communication and suitable and sensible solutions whenever issues were raised. Time frames were either met or delivered early. The site was 100% accurate, indicating impressive attention to detail.
Without exception, the feedback on our site has been outstanding - clear and thoughtful layout, appropriate and interesting graphics and intuitive navigation.
We have been a client of Digital Tsunami now for a number of years.
As an ASX listed company, we seek reliability with our suppliers. Digital Tsunami have proven they are reliable and trustworthy.
We host multiple websites and services through them, and use them for technical and creative work.
There has never been an issue, they are always on top of all technical details, and simply provide the best possible solution around a given budget, and get things right first time. Clearly they have excellent quality controls and that shows in their services.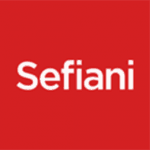 We are delighted with our new website and early feedback from clients and associates is very positive.
The overall impression is that it is a very professional, informative website and conveys the feeling that Sefiani is a quality organisation with skilled, friendly staff.
Thank you for all your help and patience in working with us for this successful outcome.