Hanas LNG time-lapse
Close
Overview
For decades, China's primary energy source has been coal, resulting in skies heavy with unhealthy particulate matter.
In China's far northern Ningxia Hui Autonomous Region (adjacent to Inner Mongolia), Hanas New Energy is an LNG and renewable energy producer. Contributing to the transformation of the power generation sector in China, Hanas is utilising low-carbon and renewable energy sources to generate electricity. For years, Hanas has operated the most efficient LNG liquefaction plant in China.
In three locations around the Chinese East coast, Hanas plans to invest billions of RMB in the construction and operation of LNG terminals, and will then extend into the hinterland of some of the world's most populous regions with LNG refuelling stations.
In advance of the Singapore LNG Expo, Digital Tsunami was commissioned to produce a video to promote Hanas to the world LNG market.
With an international team of production personnel, Digital Tsunami shot time-lapse sequences in multiple locations around China from Yinchuan in the central north, to Zhuhai in the south, Putian in the north-east, Shanghai in the east  and Hong Kong in the south-east.
Details
| | |
| --- | --- |
| Client: | Hanas New Energy Group |
| Solution/s: | timelapse |
| Sector/s: | energy & environment |
| Region/s: | Asia/Pacific |
| Language/s: | |
| Scope: | aerial video, computer animation, time-lapse, video production, scriptwriting, dual language narration recording and post-production |
| Features | shooting in Hong Kong, Putian, Shanghai, Yinchuan and Zhuhai |
From Our Clients
Andrew helped us to see the potential of video in bringing our new website to life.
He held our hand through the process, making it as undaunting as possible.
He delivered a great selection of videos (from a one-day shoot), that really tell the Foodbank story and will be a great addition to our communications.
Central to the development process is Digital Tsunami's thorough understanding of the project needs, clear and constant communication, and creative, innovative and meticulous approach to delivering solutions.
This is fantastic. Thank you. I really appreciate all the work you have done for us!
Digital Tsunami provided an outstanding service throughout the whole web development process. Andrew spent extensive time early on to understand our business in order to provide additional conceptual and strategic contributions to the brand and corporate identity of Kinetic Defence Services to ensure the message was clear, precise and appealing to the target audience.
The development process was smooth and efficient and enabled us to have an input throughout to guarantee total satisfaction with the final look and feel of the site.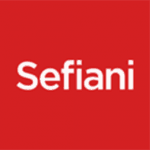 We are delighted with our new website and early feedback from clients and associates is very positive.
The overall impression is that it is a very professional, informative website and conveys the feeling that Sefiani is a quality organisation with skilled, friendly staff.
Thank you for all your help and patience in working with us for this successful outcome.