Optim print collaterals
Close
Overview
Optim has a reputation for facilitating solutions for internationally challenging, exceptionally valuable and critically time-sensitive logistics with a highly agile approach and exceptionally personalised service.
Digital Tsunami has closely collaborated with Optim to ensure branding consistency across all client touchpoints.
Firstly, Digital Tsunami refreshed the 1992 Optim identity. Secondly, electronic document templates were designed. Thirdly, business cards and A5 notepads were designed and printed, 'wrap' artwork for a prime mover designed, and office signage co-ordinated. Fourthly, Digital Tsunami developed the online presence and edited a dynamic video to convey the geographical and transport methods utilised in serving Optim clients.
The most recent deliverables included a high-end presentation folder and electronic templates for datasheets and case studies. These will be utilised for new business pitches and printed quotations.
By designing electronic templates, Optim's investment is maximised, as they enable bespoke in-house customisation and on-demand printing.
The presentation folder was designed with powerful visuals and minimal text (logo and brandline only), to maximise shelf life, as future telephone or address changes will not render the folder redundant.
The folder was printed on stiff card with spot colour, matt lamination and a gloss spot UV finish, to maximise impact. An impressive image of a vast load of equipment on a tarmac awaiting aircraft loading, was printed on the inside of the folder and the document flaps, to maximise impact when opened.
Details
| | |
| --- | --- |
| Client: | Optim Global Logistics |
| Solution/s: | print |
| Sector/s: | logistics |
| Region/s: | Asia / Pacific, Australia, EMEA, Americas, Africa |
| Language/s: | English |
| Scope: | print |
| Features | brand development, logo development, print design, web development |
From Our Clients
We have been fortunate to work with Andrew and his creative team from the inception of our business. The design and execution of our site has been fundamental in winning over clients and establishing our footprint in a very crowded space. We also place great value on their input into our business process.
You are a true professional Andrew, and your team was very impressive.
The results will be seen around the globe shortly as we embark on our new advertising campaign. I do greatly appreciate the extra lengths you went to under difficult circumstances, to help us achieve our goal.
When I need a comprehensive online strategy and innovative solutions to achieve results for an important client, Andrew is the only person I need to call.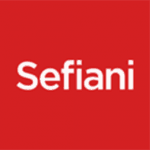 We are delighted with our new website and early feedback from clients and associates is very positive.
The overall impression is that it is a very professional, informative website and conveys the feeling that Sefiani is a quality organisation with skilled, friendly staff.
Thank you for all your help and patience in working with us for this successful outcome.
You have demonstrated patience, perseverance, attention to detail and a rare ability to perceive what was needed even when we didn't. We are delighted with the site, it performs and looks great and our enquiry rate since it superseded our previous website has already increased by 20%.