MULS freestanding banner
Close
Overview
Macquarie University Law Society (MULS) is an association for law students, dynamic in both  professional and social activities at the University and within the Sydney legal community.
The Executive Committee commissioned Digital Tsunami to design and deliver retractable freestanding banners for use at "O Week" (orientation).
The design was compliant with the University brand style guide and presented a bold image which the young students required.
Digital Tsunami also developed an identity, designed and printed stationery, printed periodical student magazines and delivered a website.
Details
| | |
| --- | --- |
| Client: | Macquarie University Law Society |
| Solution/s: | print |
| Sector/s: | education & training |
| Region/s: | Asia & Pacific |
| Language/s: | English |
| Scope: | banner design, banner print |
| Features | 2.0 x 0.8 metre banner, padded carrying case |
From Our Clients
Digital Tsunami is awesome.
Knowledge far beyond my expectations, led to the site being beautifully creative with simplicity, which is just perfect for a young female artist.
Andrew's patience and respect was impeccable, but what I loved most, was that he just knew what to do EVERY single time ... just the perfect web creator.
Thank you Digital Tsunami. Thank you Andrew
We are very pleased with the end result. It was good to have you pushing us along for material in order that we met the agreed completion deadline - you certainly are good project managers!
We are all very happy with the new website and believe it captures the essence of the Group One brand.
Andrew and colleagues were able to assist at every step of the website production process, providing a sleek layout with high quality images. We would like to thank the Digital Tsunami team for an excellent job.
Andrew has provided Merrell Associates with reliable service, bringing a vast wealth of knowledge in IT to the task for more than the eight years I have been working here.
We have been helped by Andrew to solve all sorts of problems and if there isn't an immediate fix, solutions are found pretty quickly.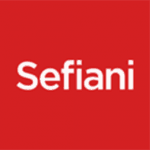 We are delighted with our new website and early feedback from clients and associates is very positive.
The overall impression is that it is a very professional, informative website and conveys the feeling that Sefiani is a quality organisation with skilled, friendly staff.
Thank you for all your help and patience in working with us for this successful outcome.