Overview
M&O is a provider of technical and safety training and services for the mining, resources, and offshore oil and gas sector on locations across the globe.
Digital Tsunami was engaged to develop a software solution and deliver a web presence for client access. During the development period, a refinement of the brand identity was considered.
The development process began with a lightning bolt of creative inspiration. Literally sketching on a paper napkin, the concept was formed in just seconds, (although 20 years of creatively connected neurons made the inspiration possible)!
The concept began with the initials M and O (derived from the company's original name, Marine and Offshore). The "O" could obviously form a globe, but a much more subtle approach was apparent. By converting the "M" into a series of small triangles, they represented both the energy of a gas flare and visually extrapolated to infer a massive globe on a blue square of ocean.
The identity was devised to enable the brand to stand comfortably amongst the globally recognised petroleum brands which are its clients.
Digital Tsunami also developed software and a web interface for this client.
Details
| | |
| --- | --- |
| Client: | M&O Group |
| Solution/s: | branding |
| Sector/s: | education & training, energy & environment, human resources, resources, safety & security |
| Region/s: | Americas, Asia & Pacific, EMEA |
| Language/s: | English |
| Scope: | identity development |
| Features | liasing with client in Macae Brazil, Luanda Angola and Perth Australia |
From Our Clients
Thanks very much for the speed & professionalism with which you continue to service our needs, despite the fact that this is provided pro bono !
Your ongoing generosity in donating the services of Digital Tsunami to Foodbank is appreciated more than you know. We, and the 30,000 people a day you help us feed, are indebted to you.
Central to the development process is Digital Tsunami's thorough understanding of the project needs, clear and constant communication, and creative, innovative and meticulous approach to delivering solutions.
Andrew has provided Merrell Associates with reliable service, bringing a vast wealth of knowledge in IT to the task for more than the eight years I have been working here.
We have been helped by Andrew to solve all sorts of problems and if there isn't an immediate fix, solutions are found pretty quickly.
I recently engaged Digital Tsunami to design and build my 60-page website. I'm a website copywriter who relies heavily on web-generated business, so my own online presence needs to be impeccable.
The solution that Digital Tsunami supplied is brilliant. It meets my needs perfectly; it's clean, bold, elegant, fast, and easy to edit. I've had lots of very positive feedback about it, and since launch, my request for quote rate and conversion rate have increased markedly.
The team at Digital Tsunami was incredibly responsive, delivering a solution well ahead of deadline. Their technical knowledge was exceptional, they were innovative, and they were very meticulous. What's more, they understood my business and technical requirements and translated them into a user-friendly, refined, professional site which is conceptually simple and cohesive.
I have no hesitation in recommending the website design services of Digital Tsunami to any business .. that needs a stand-out online presence.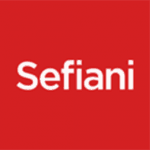 We are delighted with our new website and early feedback from clients and associates is very positive.
The overall impression is that it is a very professional, informative website and conveys the feeling that Sefiani is a quality organisation with skilled, friendly staff.
Thank you for all your help and patience in working with us for this successful outcome.